TARATIL 'ID AL-MILAD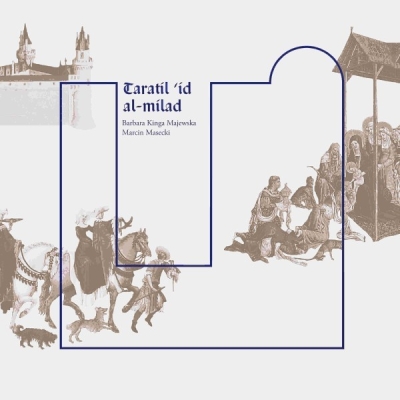 LP (2018)
Barbara Kinga Majewska (voice, concept)
Marcin Masecki (piano)
Translation of polish Christmas Songs to arabic by Szamani Yacoub
Recorded by Robert Migas
Mixed and mastered by Jan Wroński
Layout by Full Metal Jacket
Released as part of TAL by Bôłt Records and Malta Foundation
TAL is curated by Barbara Kinga Majewska and Michał Mendyk for Bôłt Records
*
Untamed carols - an essay by Paweł Mościcki
The ability to cry incorporates us back into human history.
Ernesto de Martino
I
Why sing and record traditional Polish carols in Arabic today? What is the purpose of such a distinct disruption of their popular and recognizable form? Why make these songs into something completely new, even alien, to Polish musical culture? Everyone who comes up with these questions while listening to this album should be reminded that carols are, simply, neither Polish (which is self-evident: other European countries also have a rich repertoire of carols) nor Catholic. They are, much like any element of culture, a complex, heterogeneous and multifaceted phenomenon. Only the most popularized form of their use —during a Christmas supper, the massor in numerous songs recorded by pop stars—oversimplified their meaning.
The origin of carols — which are also called pastorals or Christmas songs—dates back to pagan times and is related to the Roman feast of Kalendae, celebrated on the first day of January and devoted to Janus. He was the god of beginnings, patron of all things connected to joining, mediating, communicating—bridges, doorways, thresholds, and more. Only later, when Christianity became widespread, did carols start to be associated with songs about the birth of Jesus. Carolling did not only mean singing during the Christmas supper, together with close family members, but was a visit paid to neighbours, during which the song was both a form of asking for gifts and expressing gratitude for receiving them.
There are thus two carolling traditions referring to two different—and even opposite—chains of associations. On the one hand, it is singing in an enclosed space of one's home with one's family. On the other, it is singing on a threshold, as part of an exchange with others, in a liminal space which belongs to nobody and needs to be domesticated by everybody, in unison. This second type of tradition also constitutes a staging of the very biblical story the songs are about. Carollers knock at doors and ask for gifts in exchange for their singing. The situation evokes the ritual of hospitality which appears in the story about Christ's birth and, at the same time, reverses its overtone by offering acceptance to the visitors expressed by, for example, gifts. Each year we can commemorate the birth of Jesus by accepting a stranger into our homes instead of leaving them to the hardships of wandering. This is also the meaning behind the empty plate left on the Christmas table, which proves that the space of our homes is never fully separated from the outside world, and is never complete without the presence—even symbolic—of those who are not the members of our households.
Thus, carols accumulate different cultural influences and different meanings. They talk about the hope we have for the good beginning of a new year, they celebrate the joy of Jesus' birth, and also evoke that which is most important in culture: the joining of different elements, an exchange, a merging of influences, traditions, rituals and contexts. Only in this perspective can they reveal their true brilliance—which has been somewhat overshadowed by the commercial banalization and routine of annual Christmas celebrations. At the same time, it is extremely difficult to sing such well-known pieces in a new way, to introduce the kind of freshness they would have if they were sung, or born, for the first time this year.
II
The story of Chris's birth that we know from the Gospel is neither simple nor one-dimensional. On the contrary, it presents, in a dramatic manner, the ambiguity, the true Janus-like face of the very fact of birth. On the one hand, every birth is a miracle. It constitutes the beginning of new possibilities and creates a new world which opens together with each individual biography. It is even more so in the case of the truly miraculous, naturally impossible birth of a god in the shape of a man. This "jolly news" expressed by
carols is full of paradoxical figures, the most prominent of which is described in the first stanza of Bóg się rodzi (God is Born).

God is born, power trembles,
Lord of Heavens lies naked;
Fire freezes, light darkens,
The Endless has his limits.
Born lowly in glory,
A mortal King over eternity;
God born in a human body introduces great disturbance into the world and causes everything to seem other than usual: power becomes weakness, the Lord of Heavens appears as a naked and defenceless baby; the endless finds its limits, and the glorious becomes lowly.
The story of Christ's birth contains, however, very different and very bitter news. The miracle of birth cannot occur without the curse of birth. Every new beginning ultimately takes place in the mundane world which is—as the words of the Oj maluśki, maluśki (Oh Little One) carol describe—full of poverty and anguish. Even God himself can be born here in an unsuitable place, in an inappropriate social group, in an unfavourable time. Even his birth can remain unnoticed, can become a source of loneliness, rejection, persecution. Even he was exiled, forced to become a refugee, scorned by people to whom he did no wrong. Born in a lowly stable he suffered humiliation which is experienced today by masses of those who were born in unfavourable conditions—in countries torn by wars, in poorer regions of the world, in areas suffering the effects of advancing climate change, among oppressed minorities. This paradox of birth—both miraculous and cursed, joyful and disquieting—means that every carol tells the story of Jesus as well as all those who have suffered his fate.
He suffered greatly,
at our own hands.
These words should evoke every Son and every Daughter of Man who had to experience suffering through no fault of their own, but because of hatred and indifference.
III
The carols translated by Szamani Yacoub and recorded by Barbara Kinga Majewska and Marcin Masecki are the songs for the time of contempt in which we live. The era of rising xenophobia replacing care and empathy in relation to the growing number of defenceless victims of wars, conflicts and other calamities. When thousands of unwanted strangers, searching for shelter from a certain death, die at the gates of fortified Europe, we cannot sing about any joyful news as we have always done. This belief guided the decisions regarding the arrangements of the carols on this album. Major keys turn into minor keys and give the pieces a different character and emotional registers. Instead of joy, triumph, there is a sense of melancholia, sadness, nostalgia for something which has been irrevocably lost. In such an atmosphere, every news of birth has the potential to become an introduction to grief. The carols are also sung in a decelerated tempo and offer a meandering rhythm of wandering rather than a lively melody. Finally, their lyrics have been translated into a dialect used in the region of Aleppo, the place which, in the last couple of years, has become the symbol of the ravages of war and senseless massacres of innocent people. To an unfamiliar ear of a Polish listener who does not speak the language, the carols must indeed sound alien. Even more so because of the fact that they are placed within a culture that is increasingly overshadowed by intolerance, prejudice and hatred towards any form of otherness, especially the kind which is even remotely
and vaguely related to Arab tradition.
In such an arrangement, the carols become, first and foremost, a kind of a critical echo responding to the words of traditional carols sung without thought or reflection. To the increasingly enclosed community which relies on hearth and home and which domesticated carols to such a degree that they lost any meaning, offering their sense and mood in reversed form. Instead of joy—they bring pensiveness and sadness, instead of a quick rhythm and ceremonial phrases—a worried and disquieted slowness. The echo is unwanted and unnoticed. But it has to be heard by all those who wish to listen to the songs and remember that they reverberate here and now, in the world that we have built for ourselves. The critical aspect of this effort is to remind that the minor key is present in every nativity story and that it also bearing witness to mentioning injustice. The injustice of the past (described in the Gospel) of which we no longer wish to remember and the injustice of the present, which we do not wish to notice.
In these simple arrangements, when a sole voice is accompanied by isolated instruments—the harpsichord, piano, keyboard—the songs becomes more and more similar to a silent complaint. The voice breaks, slowly moves from sound to sound, the language no longer communicates legible messages. According to Gershom Scholem, a representative of the Jewish culture, another culture that is at the same time present and absent in Poland, a complaint is an expression of an absolute limit in the language. The language, no longer able to communicate, express anything positive, dies a tragic death right before our eyes. Singing carols in such an incomprehensible dialect is supposed to evoke this very kind of a dramatic effect of otherness, which causes the songs to become completely opaque and suffused with inexpressible sadness or resignation. They almost come to a stop, fade away in the increasingly slow-paced and melancholic phrasing.
But why should carols today deal with lamentations? Because for the last two thousand years nothing has been changed in human relations, as proven by every refugee rejected at the gates, every negative thing said against the others, every act of ignorance and indifference towards human suffering. In the context of the present world and its state, the songs run out of words, begin to sound in strange keys, only trying to express their disagreement and frame the unknown beauty of other languages and other traditions. These carols are, however, something more than an echo and a lamentation—they are also a form of meditation. Songs which transcend their assigned place within a single religious, national or cultural identity. That is how they become more universal, they talk of the fate and condition of humankind instead of building a closed and exclusive image of a monolithic tradition.
While we listen to them, they seem alternately familiar and strange, native and completely unintelligible, ours and alien. Belonging to no one and everyone. In their seductive, but not restrictive, beauty, they make us meditate. On what? For example: on the reasons why we lost the human impulse of empathy that we so eagerly praise in songs sung at Christmas tables. Why we forgot about the simple gestures of helping the oppressed, poor, and abandoned which were familiar to common shepherds greeting God before all the high and mighty of this world two thousand years ago. And, perhaps, on the fact that it is still possible to sing all this in a different, better way.
*
Kolędy nieoswojone - esej Pawła Mościckiego
Zdolność do płaczu włącza człowieka z powrotem w ludzką historię.
Ernesto de Martino
I
Po co śpiewać dziś, i nagrywać, tradycyjne polskie kolędy po arabsku? Czemu służy tak wyraźne zaburzenie ich rozpowszechnionej i rozpoznawalnej formy? Po co czynić z tych pieśni coś całkiem nowego, by nie powiedzieć, obcego w obrębie polskiej kultury muzycznej? Każdemu, komu pytania te przychodzą do głowy w trakcie słuchania tej płyty należy przypomnieć, że kolędy z pewnością nie są po prostu ani polskie (to oczywiste: istnieje ich bogaty repertuar w innych krajach europejskich), ani katolickie. Są one, jak każdy zresztą element kultury, zjawiskiem złożonym, niejednorodnym i wielowarstwowym. Jedynie ich najbardziej rozpowszechiony użytek – w trakcie kolacji wigilijnej, liturgii czy na kolejnych nagraniach gwiazd muzyki popularnej – doprowadził do spłaszczenia ich sensu.
Rodowód kolęd – zwanych też pastorałkami albo pieśniami Bożonarodzeniowymi – jest pogański i odnosi się do rzymskiego święta Kalendae, oznaczającego pierwszy dzień stycznia, i poświęconego Janusowi. Było to bóstwo początków, które opiekowało się również wszystkim, co odnosi się do łączenia, pośredniczenia, komunikowania – mostami, drzwiami, progami, itd. Dopiero później, wraz z upowszechnieniem się chrześcijaństwa, kolędy zaczęły oznaczać pieśni o narodzeniu Jezusa. Kolędowanie nie oznaczało jednak wyłącznie śpiewania przy wigilijnym stole, w towarzystwie najbliższej rodziny, ale oznaczało wizytę składaną sąsiadom, w trakcie której pieśń funkcjonowała zarazem jako domaganie się darów i zapłata za nie.
Zwyczaj kolędowania jest więc dwojaki, odsyła do dwóch różnych – jeśli nie przeciwstawnych – ciągów skojarzeń. Z jednej strony, śpiew w zamkniętej przestrzeni domu, wśród najbliższych, swoich. Z drugiej strony, pieśń śpiewana na progu, jako część wymiany z innymi, w przestrzeni pośredniej, nie należącej do nikogo i domagającej się wspólnego oswojenia. Ten drugi rodzaj tradycji jest też inscenizacją samego wydarzenia biblijnego, do którego odsyłają słowa pieśni. Do drzwi pukają kolędnicy, przybysze z zewnątrz, i proszą o podarki w zamian za śpiew. Sytuacja ta przywołuje rytuał gościnności, którego dotyczy opowieść o Bożym Narodzeniu, a zarazem ma odwracać jej wydźwięk tym razem oferując przybyszom akceptację wyrażoną choćby w formie prezentów. Co roku po raz kolejny można, w geście upamiętnienia narodzin Jezusa, przyjąć obcego pod swój dach zamiast skazywać go na niedolę tułaczki. Taki jest również sens pozostawiania pustego nakrycia przy stole wigilijnym, które dowodzi, że przestrzeń domu nigdy nie jest w pełni oddzielona od zewnętrznego świata, nigdy nie jest też kompletna bez obecności, choćby symbolicznej, tych, którzy nie są domownikami.
Kolędy kumulują więc w sobie różne kulturowe wpływy i różne sensy. Odnoszą się do nadziei na dobry początek nowego roku, celebrują radość z narodzin Jezusa, a zarazem przywołują to, co w kulturze najistotniejsze: połączenie obcych elementów, wymianę, mieszanie się wpływów, tradycji, rytuałów i kontekstów. Dopiero w tej perspektywie mogą ujawnić swój prawdziwy blask przyćmiony nieco przez komercyjną banalizację i rutynę corocznych świątecznych obchodów. Zarazem jednak bardzo trudno jest zaśpiewać tak znane utwory na nowo, nadać im taką świeżość jakby w tym roku dopiero miały naprawdę zabrzmieć, narodzić się, po raz pierwszy.
II
Znana z ewangelii opowieść o Bożym Narodzeniu też nie jest wcale prosta i jednowymiarowa. Wręcz przeciwnie, w dramatyczny sposób ukazuje dwuznaczność, prawdziwie Janusowe oblicze samego faktu narodzin. Z jednej strony każde narodziny są cudem. Stanowią bowiem początek nowych możliwości, tworzą nowy świat, który otwiera się wraz z każdą jednostkową biografią. Tym bardziej jest tak w przypadku autentycznie cudownych, niemożliwych w naturze, narodzin Boga w ludzkim ciele. Ta "wesoła nowina", którą wieszczą kolędy pełna jest paradoksalnych figur, z których najsilniej wybrzmiewa początkowa zwrotka Bóg się rodzi.

Bóg się rodzi, moc truchleje,
Pan niebiosów obnażony;
Ogień krzepnie, blask ciemnieje,
Ma granice nieskończony.
Wzgardzony okryty chwałą,
Śmiertelny Król nad wiekami;
Oto narodzony w ludzkim ciele Bóg wprowadza na świecie wielkie zaburzenie, sprawiając, że wszystko wydaje się inne niż zwykle: moc jest niemocą; pan niebieskich przestworzy ukazuje się jako nagie i bezbronne dziecko; to, co nieskończone staje się ograniczone, a to, co chwalebne zaczyna być przedmiotem pogardy.
Opowieść o Bożym Narodzeniu zawiera jednak przecież całkiem inną, bardzo gorzką nowinę. Nie ma cudu narodzin bez przekleństwa narodzin. Każdy nowy początek wydarza się ostatecznie w ludzkim świecie, gdzie – jak głoszą słowa kolędy Oj maluśki, maluśki – "bieda wsędzie". Tutaj nawet sam Bóg może się narodzić w nieodpowiednim miejscu, w niewłaściwej grupie społecznej, w niesprzyjającym czasie. Nawet jego przyjście na świat może pozostać bez odpowiedzi, może rodzić poczucie osamotnienia, odrzucenia, prześladowania. Nawet on był skazany na banicję, zmuszony do bycia uchodźcą, zzgardzony przez ludzi, którym w niczym nie zawinił. Urodzony "w nędznej szopie", doznał upokorzeń, które dziś są udziałem całych rzesz nieodpowiednio urodzonych – w kraju ogarniętym wojną, w biedniejszej części świata, w rejonach dotkniętych postępującym ociepleniem klimatu, wśród opresjonowanych mniejszości. Właśnie ten paradoks narodzin – zarazem cudownych i przeklętych, radosnych i niepokojących – sprawia, że każda kolęda opowiada zarazem o Jezusie i wszystkich ubogich, których spotkało to samo, co jego.
Nie mało cierpiał, nie mało.
Żeśmy byli winni sami.
Te słowa powinny dotyczyć każdego Człowieczego Syna i każdej Człowieczej Córki skazanych przez nienawiść lub obojętność na niezawinione cierpienia.
III
Kolędy w tłumaczeniu Szamani Yacoub, nagrane przez Barbarę Kingę Majewską i Marcina Maseckiego są właśnie utworami na ten czas pogardy, w jakim dziś żyjemy. Epokę wzrostu ksenofobii, która – zamiast troski i empatii – towarzyszy rosnącej liczbie bezbronnych ofiar wojen, konfliktów i innych nieszczęść. Gdy u bram obwarowanej niczym twierdza Europy giną tysiące niechcianych przybyszów szukających schronienia przed niechybną śmiercią, nie można śpiewać żadnej wesołej nowiny w taki sam sposób jak zawsze. Z tego przekonania wynikają decyzje co do aranżacji kolęd na tej płycie. Tonacje durowe zamienione są tutaj w mollowe sprawiając, że pieśni od razu brzmią inaczej, wpisują się w zupełnie inne emocjonalne rejestry. Zamiast radości, tryumfu, pojawia się w nich nastrój melancholii, smutku, nostalgii za czymś bezpowrotnie utraconym. W tej atmosferze każda nowina o narodzinach staje się potencjalnie również początkiem żałoby. Poza tym kolędy są tu śpiewane w spowolnionym tempie, zamiast skocznej melodii oferują meandryczny rytm tułaczki. Wreszcie, ich słowa zostały przetłumaczone na dialekt z okolic Aleppo, miejsca, które w ostatnich latach stało się symbolem wojennej pożogi i bezsensownej masakry niewinnych ludzi. Dla niewprawnego ucha polskiego słuchacza, nie znającego tego języka, muszą więc brzmieć obco. Tym bardziej, że padają na grunt kultury w coraz większym stopniu naznaczonej wirusem nietolerancji, uprzedzeń i nienawiści wobec wszelkiej inności, zwłaszcza zaś tej, która choćby mgliście i skrótowo odnosi się do kultury arabskiej.
Kolędy w takim wykonaniu są więc przede wszystkim rodzajem krytycznego echa, które odpowiada na bezmyślnie wyśpiewywane słowa tradycyjnych kolęd. Coraz bardziej zamkniętej, coraz bardziej uzależnionej od ciepła domowego ogniska wspólnocie, w której kolędy stały się tak oswojone, że niemal przestały nieść w sobie jakąkolwiek treść, oferują ich sens i nastrój w odwróconej formie. Zamiast radości – pełną smutku zadumę, zamiast szybkiego rytmu albo uroczystej frazy – zatroskaną i zaniepokojoną powolność. To echo niechciane, usuwane w cień. Ale musi ono wybrzmiewać w uszach każdego, kto chciałby słuchając tych pieśni pamiętać, że brzmią one tu i teraz, w takim świecie, jaki sobie zbudowaliśmy. Krytyczny wymiar tego zabiegu zawiera się w przypomnieniu, że ta mollowa tonacja zawarta jest w każdej opowieści o Bożym Narodzeniu i że domaga się ona wspomnienia o niesprawiedliwości. Tej minionej (zapisanej w ewangeliach), o której nie chce się już pamiętać, i tej obecnej, której nie chce się dostrzegać.
W tych prostych aranżacjach, gdzie samotnemu głosowi towarzyszą jedynie pojedyncze instrumenty – klawesyn, fortepian, keyboard – pieśń zbliża się coraz bardziej do niemej skargi. Głos się załamuje, powoli przechodzi z dźwięku na dźwięk, język przestaje komunikować zrozumiałe treści. Jak pisał Gershom Scholem, przedstawiciel innej obecnej i nieobecnej zarazem w Polsce kultury żydowskiej, skarga jest w języku wyrazem absolutnej granicy. Język nie mogąc już nic wyrazić, niczego pozytywnego ginie na naszych oczach tragiczną śmiercią. Śpiewanie kolęd w niezrozumiałym dla większości słuchaczy dialekcie ma wywołać właśnie taki dramatyczny efekt obcości, który prowadzi to tego, że pieśni stają się całkiem nieprzejrzyste, dotknięte trudnym do wyrażenia smutkiem albo rezygnacją. Niemal się zatrzymują albo nikną w coraz bardziej powolnym, melancholijnym frazowaniu.
Ale czemu kolędy miałyby się dziś zajmować lamentowaniem? Choćby dlatego, że nic, przez te ponad dwa tysiące lat, nie dało się w ludzkich relacjach zmienić, o czym świadczy każdy odrzucony na progu uchodźca, każde złe słowo kierowane przeciw obcym, każdy akt ignorancji i obojętności na ludzkie cierpienie. W kontekście dzisiejszego stanu świata pieśniom zaczyna brakować słów, zaczynają brzmieć w nieznanych sobie rejestrach próbując zaznaczyć już tylko swoją niezgodę i ująć we własne ramy nierozpoznane piękno innych języków i innych tradycji.
Kolędy te nie są jednak wyłącznie echem i lamentem, ale także rodzajem medytacji. Pieśniami, które odrywają się od przypisanego im miejsca w obrębie jednej tożsamości religijnej, narodowej czy kulturowej. W ten sposób stają się bardziej uniwersalne, opowiadają o losach i kondycji ludzkości, a nie budują domknięty i wykluczający obraz monolitycznej tradycji. W trakcie ich słuchania wydają na przemian znajome i obce, swojskie i całkiem nieodgadnione, nasze i cudze. Niczyje i należące do wszystkich. W swym uwodzicielskim, choć nie zawłaszczającym pięknie zmuszają do medytacji. Nad czym? Choćby nad tym jak to się stało, że utraciliśmy ludzkie odruchy empatii, o których tak chętnie śpiewamy co roku przy świątecznych stołach, zapomnieliśmy o prostych gestach niesienia pomocy uciśnionym, ubogim i porzuconym, które znali już dwa tysiące lat temu zwykli pastuszkowie witający Boga przed wszystkimi możnymi tego świata. I może też o tym, że wciąż jeszcze da się kiedyś zaśpiewać to wszystko inaczej, lepiej.